---
"The Mosaic Garden" created on the wall at the Activity Centre, St. Bede's, Semaphore, is a celebration of community. It is about the process of transformation through shared creative activity and working together to bring a project to life. The mosaic features a tall gum tree where, if you look closely, you will find the names of over twenty of the forty participants. There are bees, butterflies, and toadstools amongst a garden of larger than life flowers. The piece invites curiosity and captures a sense of hope, fun and joy – something unexpected on busy Military Road .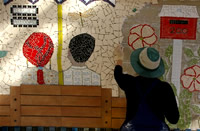 For many years St. Bede's Activity Centre has been the venue for people with mental illness in Semaphore. Local artist Cheryl Sherrah has worked with the participants and staff of Western Day Programs for eight months to design and create the mosaic wall. (Western Day Programs is part of Western Mental Health, Central Northern Adelaide Health Service.)
The 8 x 2.8 metre mosaic welcomes visitors to the hall and one can't help but delight in the warmth and hospitality it conveys. Community artist Cheryl Sherrah has contributed a significant amount of voluntary time to the project as her "gift to the community". "It's been great fun, really insightful. I've really enjoyed working with the guys – they've been here every day." Robert of Semaphore, a participant in the project says "Everybody did a great job. Good effort. One of the best things that we've done at St. Bede's." Vince of Mansfield Park says, "We all enjoyed working on the Mosaic Garden Wall."
"The Mosaic Garden is a marvellous gift," says Ali Wurm, St. Bede's Parish Priest. "We are happy to nurture a sense of belonging and participation in the community of St. Bede's, especially for people who are struggling with mental illness. The truth is that all of us are vulnerable when it comes to mental health. A sense of belonging to community, giving expression to our creativity, surrounding ourselves by aesthetic environments, working as part of a supportive group – these are some of the ways that can encourage a healthy body, mind, and spirit."
Funded by a Community Arts Grant from Port Adelaide Enfield Council, this project follows the success of the Stepping Stone Project of 2005, also funded by the Council. The Stepping Stones are featured in the western median strip on Semaphore Road , opposite Foodland.