---
---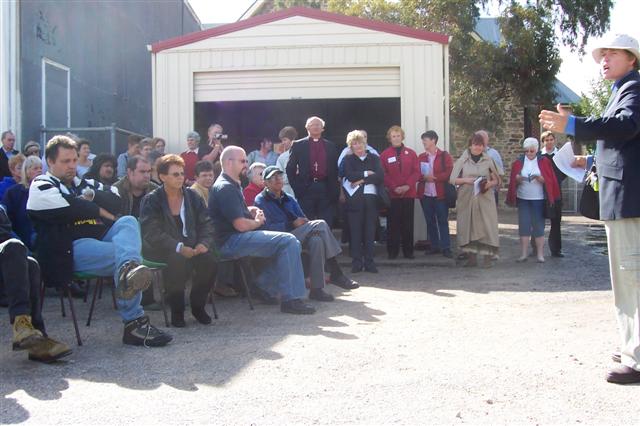 ---
A Community Garden will provide a nurturing space, activity, and shared interest for parishioners and local residents, in particular for those struggling with mental illness who already meet each day at St. Bede's for the Activities Centre co-ordinated through Western Day Programs (QEH Mental Health Division), and St. Bede's Drop-in Centre.
The garden has been a partnership between St. Bede's Church and Community Groups, including Project Manager, Margaret Heffernan [designer of the garden] who works at the Semaphore Garden Shop. The Community Garden encourages friendships through a cross-generational community and a connection with a supportive group who give a sense of value and purpose to those who are vulnerable and disadvantaged in our community.
For anyone who does not have access to their own garden this will provide a positive and social place to share a common purpose. Participants will have the opportunity to learn about the land and organic gardening practices. Recycling of wastes through composting and mulching as well as companion planting is encouraged. The Community Garden has raised garden beds with red gum sleepers and a timed dripper system of irrigation in place until fundraising allows 2 water tanks to be installed. There is a central area with raised seating and currently 7 plots all thriving. Workshops are planned to be held.
These may include dripper irrigation using miniscape, dry land gardening, permiculture and sustainable garden principles.
Contact St Bede's on 8449 5064 for details. St. Bede's Community Garden will provide a beautiful space to nurture those who nurture the garden.
The Community Garden has a Facebook group.. Click here
Diary Dates 2021
[Please refer to our What's On page for details of activities.]

September 2nd
10.00 am
Art and Craft morning

September 12th
Visit to Barossa Bush Gardens
September 19th
Visit to Mount Lofty Botanic Gardens

September 30th
10.00-12.00
Community Garden Open Day

October 3rd
4.00 pm
Pet Blessing